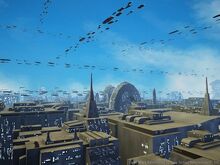 Coruscant is the home to the Jedi Council and Temple, it is the starting planet you will began on when you first create your own Jedi or Trooper Class!
Guarded at every entry are the standard Clone Soldiers here to protect the Temple.
Exploring Rooms:
Main Hangar
Main Halls -
War Room -
Lounge -
Jedi Lounge (Exclusive V.I.P) -
Training Room -
Shopping Area -
Lightsaber Construction Chamber
Workshop -
Archives
In need of some extra credits? Be sure to look all around the Jedi Temple as small Blue Credit Orbs will spawn quite often for you to collect, not only that, Holograms will also spawn often to collect!. Currently in Coruscant, you can find Jedi Battle Logs, if you find all 8 for Vol. I, you can obtain your very own Orange Meditation Tree (can not be rewarded yet). After your done finding all 8 for Vol. 1, you can also find 8 more Jedi Battle Logs, part of the Vol II collection, once all 8 are obtained you can obtain your very own Purple Meditation Tree (also can not be rewarded yet).
There are many great known NPC's around each corner, so be sure to check them out for some good old fashioned fun.
Community content is available under
CC-BY-SA
unless otherwise noted.