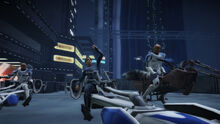 Speeder Bike Racing is a racing inspired mini-game. Players are played on a BARC Speeder Bike or Swoop Speeder Bike of different appearances/designs purchased in the Credit market (or can be awarded in promotions such as the "Jet Pack Trooper" mini-game on StarWars.com) and race against other players/opponents. The mini-game can be found at the Hangar, ran by Kit Fisto.
---
Race Tracks:
The player can race against other players or bots on Coruscant and Orto Plutonia. Each planet has three tracks which vary in difficulty.
---
Rewards:
Rewards consisted of a certain amount of Republic Credits depending on which place you come in.
- 1st Place: 200 Republic Credits
- 2nd Place: 175 Republic Credits
- 3rd Place: 150 Republic Credits
---
Challenges:
The Challenges for Speeder Bike Racing is racing on the tracks with only speed boosts or Speed dampens. When all twelve challenges are complete, the player is awarded the title of "Champion Racer".
Community content is available under
CC-BY-SA
unless otherwise noted.